Accessible vehicle rentals
Minivan
Minivan with access ramp able to accommodate up to three persons in motorized wheel-chairs and four companions.
Discount Location d'autos et camions – 1 844 562-2886
Location Jean Légaré : 1 888 534-6466
Car
Accessible car rentals with hand controls, spinner knobs, etc.
Avis – 1 888 879-4273
Alamo – 1 800 651-1223 / 1 800 522-9292
Entreprise – 1 866 225-4284 / 1 866 543-9250
Services on the road
Full-service gas stations recommended by CAA Québec.
Orthopedic equipment suppliers that repair, rent and sell wheelchairs and other mobility aids.
Intercity Public Transit
Train
Do not book train travel online; rather call VIA Rail. When making your booking, ensure that the arrival and departure stations are accessible.
VIA Rail – 1 888 842-7245 / 1 800 268-9503
Local public transit
Adapted Transit
Every Québec municipality offers adapted transit services. Please contact Keroul for more information.
Kéroul – 514 252-3104
Regular Bus and Metro – Montréal
Most bus lines offer 'kneeling' (low-floor buses).
Metro
All passengers may use the elevators, particularly those with limited mobility or in a wheelchair. The métro system can be accessed by most wheelchairs, either manual or motorized, as well as by three- and four-wheel scooters. They are located in 12 metro stations along the orange line. The Montmorency, De la Concorde, Cartier, Jean-Talon, Berri-UQAM, Champ-de-Mars, Lionel-Groulx, Henri-Bourassa, Côte-Vertu, Snowdon, Rosemont and Place-d'Armes métro stations are accessible at street level to wheelchair users. The Bonaventure station is partially accessible, between the ticket booth level and train platforms only. For now, there is no direct access from street level.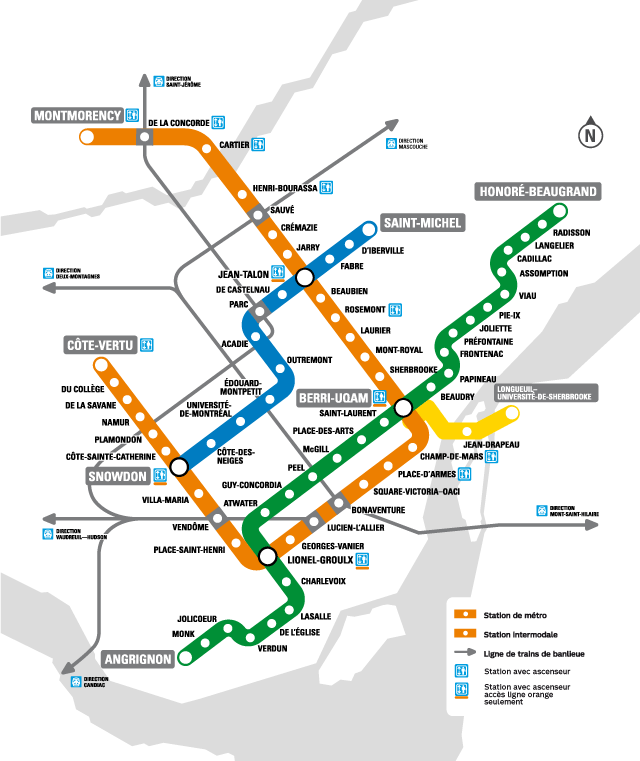 Montmorency station
Enter from 1800 Jacques-Tétreault St. Enter from Lucien-Paiement St. to access the station from the passenger drop-off area,the  outdoor parking area, or  theindoor paid parking levels P1 and P4.
Montmorency station neighbourhood map (PDF)
De la Concorde station 
Enter from the waiting area at 250 Montée du Moulin.
De la Concorde station neighbourhood map  (PDF)
Cartier station
Enter from 5 Cartier Blvd. West
Cartier station neighbourhood map (PDF)
Jean-Talon station
Enter from 430 Jean-Talon Est
Jean-Talon station neighbourhood map (PDF)
Berri-UQAM station
Access the station from Saint-Denis Street.
You can also enter through these two buildings:
La Grande Bibliothèque
475 De Maisonneuve Blvd. East
Tuesday to Friday: 10 a.m. to 10 p.m.
Saturday and Sunday: 10 a.m. to 6 p.m.
Monday and legal holidays: closed
UQAM
1400 Berri St. (corner Berri and Sainte-Catherine)
7:30 a.m. to 11:30 p.m. Monday to Friday
8:30 a.m. to 6 p.m. Saturday and Sunday
Closed on legal holidays
Berri-UQAM station neighbourhood map (PDF)
Champ-de-Mars station
Enter from 940, rue Sanguinet
Champ-de-Mars station neighbourhood map (PDF)
Lionel-Groulx station
Enter from 620 Atwater Avenue
Lionel-Groulx station neighbourhood map (PDF)
Henri-Bourassa station
Access the station from the south corner of Henri-Bourassa and Lajeunesse.
Henri-Bourassa station neighbourhood map (PDF)
Côte-Vertu station
Enter station from Côte-Vertu North entrance.
Côte-Vertu station neighbourhood map (PDF)
Snowdon station
Enter station from 5111, chemin Queen-Mary.
Snowdon station neighbourhood map (PDF)
Rosemont station
Enter station from 420, Rosemont blvd.
Rosemont station neighbourhood map (PDF)
Place-d'Armes station
Enter station from 960, St-Urbain street
Place-d'Armes station neighbourhood map (PDF)
Écolobus – Québec
Accessible minibus service with a regular route through the Old City. For more information, contact the Réseau de transport de la Capitale.
RTC – 418 627-2511
Accessible Taxis
Contact information for companies offering accessible taxi services.
Abitibi-Témiscamingue
Val d'Or
Taxi 24: 819 856-7330
Taxi Val d'Or: 819 825-2211
La Sarre
Taxi S. Depont: 819 333-7444
Eastern Townships
Magog
Taxi Magog-Orford: 819 843-3377
Sherbrooke
Taxis de Sherbrooke: 819 562-4717
Centre-du-Québec
Victoriaville
Taxi adapté Victo: 819 357-0032
Taxibus: 819 752-4549
Rouli-Bus: 819-758-5959
Drummondville
Taxi Central: 819-478-4646
Notre-Dame-du-Bon-Conseil
Taxi Bon-Conseil: 819 336-3030
Charlevoix
Clermont
Taxi fauteuil mobile: 418 665-2207
Baie-Saint-Paul
Taxi Robert Bradet: 418 435-5198
Chaudière-Appalaches
Lévis
Taxi adapté M. Auger: 418 833-3339
Thetford Mines
COOP de taxis de Thetford Mines: 418 338-5115
Lanaudière
Joliette
Radio Taxi Monaco: 450 753-7575
Saint-Jean-de-Matha
Taxi Bruneau: 450 803-3142
Laurentides
Sainte-Adèle
Taxi COOP Sainte-Adèle: 450 229-3535
Saint-Faustin-Lac-Carré
Taxi Van des Cîmes: 819 681-0486
Laval
COOP des propriétaires de taxis de Laval: 450 688-2707
Mauricie
Trois-Rivières
Taxi COOP de la Mauricie: 819 378-5444
Louiseville
Desaulniers Taxi: 819 228-2464
Grand-Mère
Bellemare taxi: 819 538-3000
Montréal
Taxi Para-Adapté: 514 821-3355
Taxi Van Médic: 514 739-9933
Taxi Boisjoly: 514 252-1313
Taxi Diamond: 514 273-6331
Taxi COOP de l'Est: 514 352-6000
Taxi COOP de l'Ouest: 514 352-6666
Taxi Excellence: 514 322-0909
Taxi Expert: 514 374-7171
Taxi Rosemont Plus: 514 255-1313
Montérégie
Longueuil
Taxi Union: 450 679-6262
Allo Taxi: 450 646-6060
Chambly
Taxi Chambly: 450 658-3000
Outaouais
Gatineau
Taxi BMA Soucy: 819 986-3332
Québec
Taxis COOP Québec: 418 525-5191
Taxi Laurier: 418 651-2727
Transport accessible du Québec: 418 641-8294
Saguenay-Lac-St-Jean
Saguenay
Radio taxi Saguenay: 418 549-4230
Taxi 2151: 418 544-2151
Taxi Diamond: 418 547-2121
Chicoutimi
Free travel for companions
By train
A companion who presents the required documentation can travel aboard VIA Rail for free. For more details:
VIA Rail – 1 888 842-7245 / 1 800 268-9503
By Bus
Free travel can be obtained upon presenting the Carte québécoise à l'accompagnement, available from the Bus Carriers Federation.
Bus Carriers Federation – 418 476-8181 / 1 844 476-8181
Public transit
In Montréal's public transit system, persons accompanying mobility-reduced of visually impaired passengers travel for free. For details, contact the Société de transport de Montréal.
STM – 514 280-8211
A good tip: always book at least 48 hours in advance.
Aéroports de Montréal
Aéroports de Montréal is committed to providing airport facilities that are adapted to the needs of people with disabilities or limited mobility. Our customer service personnel and Airport Patrol officers are also available to assist you at all times.
Accessible ground transportation (car rental agencies and shuttles)
A limited number of wheelchair-accessible vehicles and equipped with hand-operated controls are available for rental. Customers are asked to make the necessary arrangements in advance with their car rental agency.
Public transit buses are accessible to people with limited mobility and can accommodate wheelchairs.
Parking
People with limited mobility who have a valid certificate attesting to this fact and needing adapted parking can use the Multi-Level parking lot located near the terminal at the same weekly rate as the EconoParc lot.
Parking spots for people with limited mobility are available in the EconoParc facility. Please note that the shuttle service between this lot and the terminal is unable to provide transportation for wheelchair users. More
Terminal
The terminal entrances on the arrivals level are equipped with oversized revolving doors with slow-motion buttons.
Wheelchairs are available at the information counters located on the departures level for use by people with limited mobility visiting the airport. If you are boarding a flight, please contact your airline for a wheelchair.
There are access ramps, elevators and moving sidewalks available to facilitate movement inside the terminal.
Information counters, check-in counters, self-service check-in kiosks, public pay telephones and automated teller machines (ATMs) are accessible to wheelchair users.
All washrooms feature doorless entrances and are equipped with toilet stalls adapted for use by people with limited mobility.
In the international and transborder jetties, single-occupant unisex washrooms equipped with hands-free faucets are accessible to people in wheelchairs. They are also equipped with an emergency call button.
Wheelchair-accessible drinking water fountains are also available.
Use of carpeting in the terminal has been minimized to facilitate wheelchair movement.
At departure and arrival
One line at each pre-boarding screening checkpoint is reserved for people with limited mobility accompanied by an airline passenger agent.
In the international and transborder jetties, passengers with limited mobility have access to a transportation service using electric carts, from the security checkpoint to the boarding gate (departures level) and from the arrival gate to the Canada customs hall (arrivals level).
Reserved seating is available in the boarding lounges.
When an aircraft is parked far from the terminal, passenger transfer vehicles are available to transport people with limited mobility between the plane and the terminal. Arrangements must be made by the carrier.
There is a line for use by people with limited mobility in the Canada customs hall, near the line for airline crews.
Adapted taxis are available from 7 a.m. to 2 a.m. upon request to the dispatcher at your arrival. Outside these hours, you must advise your airline, who will contact our dispatcher.
Retail services
Public pay telephones (except TTY phones) are equipped with a button that directly contacts ADM's call centre for any request involving an emergency.
Wheelchair users can enter all shops and restaurants in the terminal.
Bars and VIP lounges have lowered sections for wheelchair users.
Every bank of public pay telephones has at least one telephone configured for access by wheelchair users.
Services for the hearing impaired
TTY telephones (identified with the TTY pictogram) are available at every bank of public telephones in the terminal and boarding areas.
All pay telephones in the terminal are equipped with an adjustable volume control and a flux coil to assist hearing-aid users.
Visual fire alarms (strobes) are located in public areas.
Directory assistance
If you are a TTY user, simply call 7-1-1 for all directory assistance listings (local, national, US, overseas and toll free numbers).
Rates and information
For TTY, call 1 800 855-1155
Services for the visually impaired
Signs are large and brightly coloured.
Braille signs are located at entrances to all public washrooms.
All elevators, escalators and moving sidewalks are equipped with braille signage.
Elevators are also equipped with audible synthesized voice "floor callers" or acoustic signals that indicate floors.
There is a relief area for guide dogs across from the terminal building, near the west tower of the multi-level parking garage.
Changing place
Montreal-Trudeau International Airport (YUL) opens a specially-equipped washroom and changing facility for people with reduced mobility that is the first of its kind at an airport outside Germany or the United Kingdom.
Travelling can be a major challenge for people with reduced mobility, severe disabilities or specialized needs. And while many airports and airlines offer wheelchair and other services for the disabled, few currently provide fully-equipped washroom and changing facilities specifically designed for them.
Montreal-Trudeau International Airport recently opened such a facility in its international arrivals hall, equipped with a winch and changing table for adults.