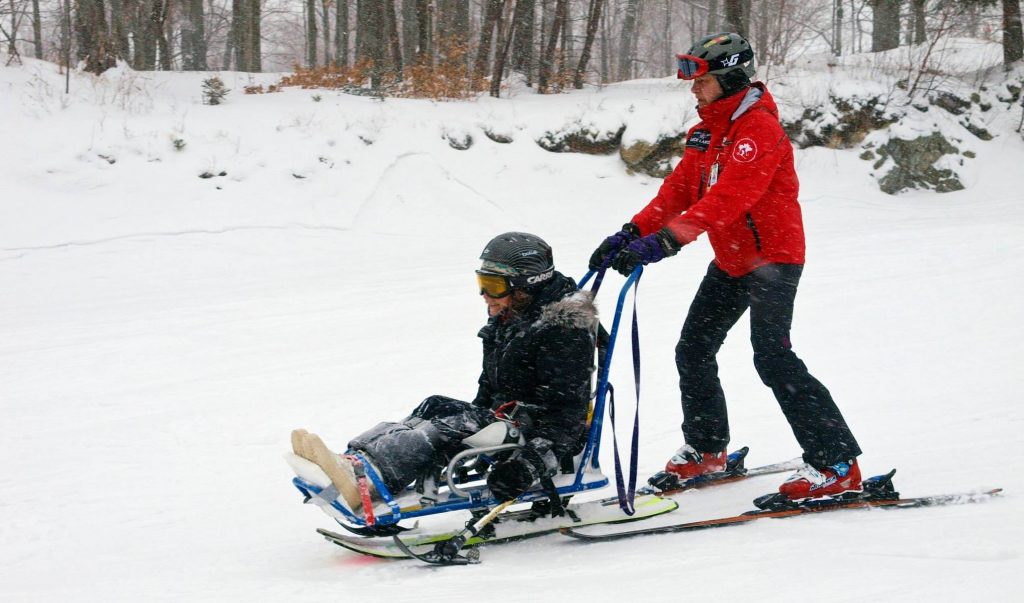 Adaptive Winter Activities
Winter is not the time for hibernation! Québec as a lot to offer.
Snow can present challenges for people with disabilities, but it can also be a great source of fun. All it takes is the right equipment. Adapted winter sports will make you fall in love with the season that practically defines this province!
Downhill skiing
Ski Mont Owl's Head – Adapted Sports Foundation
Eastern Townships
The Adapted Sports Foundation  adapted ski program is offered at Mont Owl's Head. The program, which takes place over four Saturdays, is affordably priced and includes a lift ticket, adapted equipment and two instructors for the day. 
Other ski centres in Québec that offer adapted downhill skiing
You can also consult this extract from the 2017 edition of Québec for all. It provides the equipment offered by the different organizations and some explanations about them. Note that the information may not be up to date.
Cross-country skiing
Ski de fond Québec
The provincial organization Ski de fond Québec offers day-long, introductory adapted cross-country ski lessons throughout Québec.
Sépaq parks 
The Bic, Oka, Îles-de-Boucherville, Mont Saint-Bruno, Mont-Orford and Mont Tremblant national parks all have a Ski-Vel so that people with disabilities can explore the snow trails. The Ski-Vel is available free of charge at each park's Visitors Centre from December to March, depending on snow conditions.
Dogsledding
Kinadapt
Lanaudière
Kinadapt is an organization that offers sensory activities involving dogs and dog sled excursions. It uses a variety of classic sled models retrofitted for people with reduced mobility.
Snowmobiling
Nord Expe Raids & Expeditions
Québec region
Nord Expe Raids & Expeditions snowmobile Canada has an adapted snowmobile! The seat provides back and sides support for the lower body. This activity requires good motor skills in the arms and good vision. You also need to be able to make your own transfer. The reception building is fully accessible.
Arctic Aventure
Laurentians
Arctic Aventure is the only company in or outside of Québec offering accessible snowmobile rentals. It has creatively adapted its own snowmobiles by adding adjustable backrests and a one-handed driving feature. 
Saint-Adolphe-d'Howard winter triathlon
Laurentians
Saint-Adolphe-d'Howard introduced a winter triathlon consisting of snowshoeing (5 km), skating (12 km) and cross-country skiing (8 km). For inclusion purposes, the programming also includes a para-triathlon at a very affordable price. Lastly, the event includes challenges for the 50+ age group for families and for young students.
You now have many ideas to explore the wonders of Québec's winter!