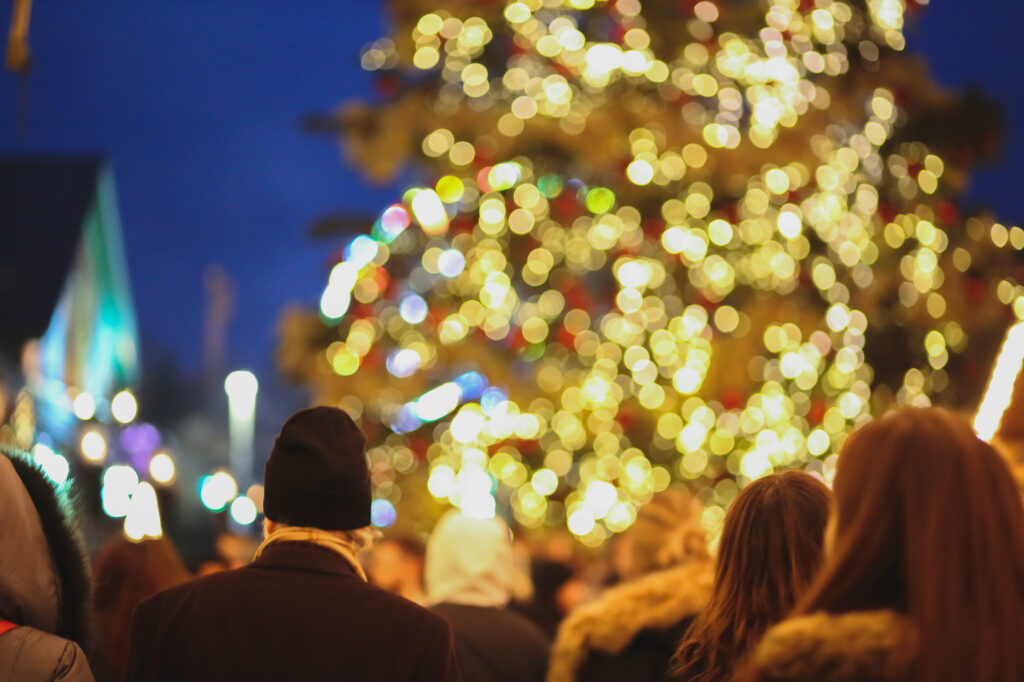 Christmas Markets in Québec
The holiday season is just around the corner. Can you hear the strains of Christmas carols in the distance and smell the hot chocolate? Yep, the little European-style wood cabins are back. Time to head out to the province's Christmas markets and check out the kiosks of Québec artists and artisans. Can't you just see yourself being tempted by that cute Frosty the Snowman tree ornament for little Susie? And wandering from wood cabin to wood cabin as you take in their traditional holiday scents and colours?
Below is a list of some of the Christmas markets taking place this year. Get your family and friends together and come enjoy the magic of the holiday season in Québec.
Keep in mind that these markets are often very busy, so your best bet is to go early in the day. If you can, bring someone with you to make it easier and safer for you to move around. If you want to enjoy the lights, go at dusk, but remember that things will also more crowded at that time. Lastly, the facilities are not always set up for people with reduced mobility (slopes, steps in front of the kiosks, etc.), so be careful when moving around.
Have a great time at the Christmas markets!
---
Island of Montréal
Fridays through Sundays, from November 27 to December 23, 2021
The Jean-Talon Market has gone all out for its second Christmas market. This year, the market will be twice as big as last year, and visitors will have twice the fun wandering through a magical village of local artisans selling hand-crafted products. Come soak up the authentic Christmas ambiance, meander through a magnificent little village of artisans, and take a break at a magical warming station.
Wednesdays through Sundays, from November 20, 2021, to January 2, 2022
Located in the Quartier des spectacles, the Great Christmas Market boasts 30 wood chalets operated by local and regional artisans. Different exhibitors will come to the market each week to show off their creations, cosmetics, jewellery, accessories, decorations and foods.
Weekends from December 3 to December 19, 2021
Set in Place du Marché Atwater for the past 5 years, the Montréal Christmas Village features a wealth of ethical and eco-responsible products made by local and regional artisans. Come out and enjoy the free program designed especially for families.
---
Québec City and Area
Grand Marché de Québec
From November 25 to December 31, 2021
The Grand Marché de Québec is donning its blanket of white and its prettiest decorations to offer foodies exceptional local dishes. This year, 140 food businesses, artisans and artists will join the market's permanent vendors.
The German Christmas Market
Thursdays through Sundays, from November 19 to December 23, 2021
This magical place comes to life in the heart of Old Québec, in front of City Hall. On the menu: an incredible atmosphere, amazing decorations, German food galore (giant pretzels, bratwurst, mulled wine, sweets, gingerbread and much more), delicious local products and pop-up performances every market day.


---
Charlevoix
Weekends of November 26 and December 3, 2021
A must-see event in Baie-Saint-Paul, the Marché de Noel Baie-Saint-Paul Christmas market is celebrating its 12th anniversary this year. Visits can browse for that perfect gift at 40 wood cabins set up in the church square, all in the most festive of ambiances.
---
Lanaudière
Starting November 26, 2021; see details on the websites below
The L'Assomption, Joliette and Terrebonne Christmas markets are must-do winter events in Lanaudière. The magic of Christmas is brought to life by the food, living heritage and traditional music.
---
Eastern Townships
Starting November 27, 2021; see details on the websites below
The Marché agroalimentaire de Noël de La Haute-Yamaska Christmas food market is the largest gathering of food producers and processors, as well as artisans, in the area. This gourmet market is held in several villages in the region.
Throughout the Brome-Missisquoi region, visitors will find hundreds of inspiring gift ideas at the seven Christmas markets being held in the region.
---
Laurentians
Starting November 12, 2021; see details on the websites below
Find your inner child again at the Route des Gerbes d'AngelicaChristmas Fairyland in Mirabel, where you'll be dazzled by their 350,000 Christmas lights.
Many other communities in the region are also putting on smaller Christmas markets, such as the one in Val-David, where you'll find an incomparable choice of festive, high‑quality products for the holidays, and the one in Saint-Adolphe, which specializes in arts and crafts.
---
Outaouais
From November 26 to December 5, 2021
In Old-Aylmer, the market comes alive with illuminated floats along Rue Principale.
From November 24 to December 24, 2021
At Les Promenades Gatineau, the Croquez l'Outaouais indoor Christmas Market is a month-long opportunity to discover 100% local gourmet delights and pre-packaged gift baskets.
---
Mauricie
Starting November 23, 2021; see details on the websites below
The glow of Christmas in Trois-Rivières, the Marché Godefroy in Bécancour and the Christmas market at the Armoury in Shawinigan are three major events in the Mauricie region. Lights, gourmet foods, local products and Christmas magic await.
---
Laval
December 3 to 5 and December 10 to 12, 2021
Located in the Centre de la nature, the Marché de Noël de Laval boasts some 60 local artisans in a stunning illuminated setting. Please note that the market is easily accessible to people with reduced mobility from parking lot P3.
---
Montérégie
Weekends of December 4–5 and December 11–12, 2021
The Christmas markets of Vieux-Saint-Jean can be found at different locations all around the town. Come out and find unique gifts from small business owners while taking in the lively, friendly atmosphere made even more special by choirs and street entertainers.
Fridays through Sundays, from November 26 to December 19, 2021
Visit the Longueuil Christmas market and discover the traditions of the past through an original program that celebrates the know-how and expertise of days gone by.
---
Saguenay–Lac-Saint-Jean
From December 2 to 5, 2021
The Marché de Noël européen du Saguenay, a European-flavoured Christmas market located in the Chicoutimi district, is a must-see in the region. Come out and enjoy the magical festive atmosphere created by the wood cabins and the giant Christmas tree. You can't help but be charmed by the entertainment, local products and Christmas decorations.