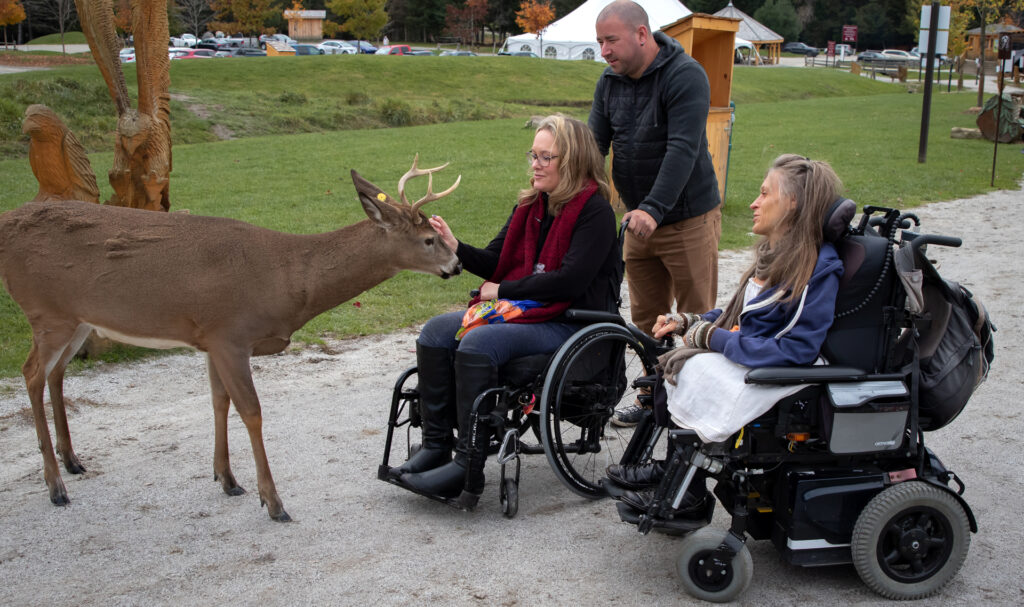 Meet the wildlife of Québec
The animals of Québec are a sight to behold! To get to see a moose, a caribou, an Arctic fox or a black bear at least once in your life is a dream that many people would love to have come true.
And to make this dream a reality, we have created a new video to let you know about accessible sites in Québec. Great experiences await people of all ages, including those with restricted mobility or special needs.
In this video, Marie-Claude and Arnaud have fun on new adventures with their friends, and take you with them to exceptional sites across Québec.
There's nothing like being around these small and large animals! Fall, with its beautiful colours, is the best time for these experiences: It's not as hot as in summer, which makes it the perfect chance to observe Québec wildlife, and you also have the opportunity to take gorgeous pictures of the sumptuous landscapes when it's an unseasonably warm fall season.
Check out three beautiful, accessible spots in this new video, shot in three different Québec regions:
La Terre des bisons in Rawdon: Come escape to the world of the mighty bison at this ranch. You can take a stroll along the trails made of compacted rock dust all around the pastures to observe the bison and elk. You can continue your visit by heading to the interpretation centre to discover some of the smaller animals.
The Zoo Ecomuseum in Sainte-Anne-de-Bellevue: As you take in an incomparable and natural experience, see some of Québec's smaller wild residents at this shelter that cares for injured animals, including foxes, otters, raccoons and porcupines.

The Parc Oméga in Montebello: Remain comfortably seated in your vehicle, and drive across this safari park to meet the iconic large animals of Québec. One species after the next is waiting for you, each more amazing than the other.
---
So, this made you want to plan a trip, didn't it? Discover more accessible or partially accessible tourist sites in Québec for people with reduced mobility or special needs. Below is a list of some of the sites in Québec where you might discover animals in Québec:
Zoo sauvage de Saint-Félicien: This 485-hectare zoo showcases nearly 1,000 animals from 80 species of the boreal regions and the cold parts of the world.
Refuge Pageau – Amos: This shelter cares for orphaned, sick or injured wild animals. A beautiful place to get to know the iconic wildlife of Québec.
Bioparc de la Gaspésie – Bonaventure: This wildlife park is home to some 40 native species of animals in an environment that evokes their natural habitat.
Verger Champêtre – Granby: You can take an alpaca for a walk and get to know the animals at the mini-farm at this orchard. Bring your own picnic lunch, or enjoy the wonderful food prepared on site.
Centre d'interprétation de la nature du Lac Boivin – Granby: This peaceful and sustainable conservation area beckons you to discover its fauna and flora or do a bit of birdwatching.
Domaine Saint-Bernard – Mont-Tremblant: Showcasing nature in all its simplicity, the Jardin des oiseaux has accessible stone paths for observing the local fauna and flora.
Centre de la biodiversité du Québec – Bécancour: Take the woodland trails to learn more about the local ecosystems, and visit the museum to get acquainted with Québec wildlife, past and present.
Réserve nationale de faune du Cap-Tourmente – Saint-Joachim: Visit this wildlife reserve located in a wetland whose contrasting landscapes are shaped by the action of the river, and contemplate the coastal marshes, plains and mountains.