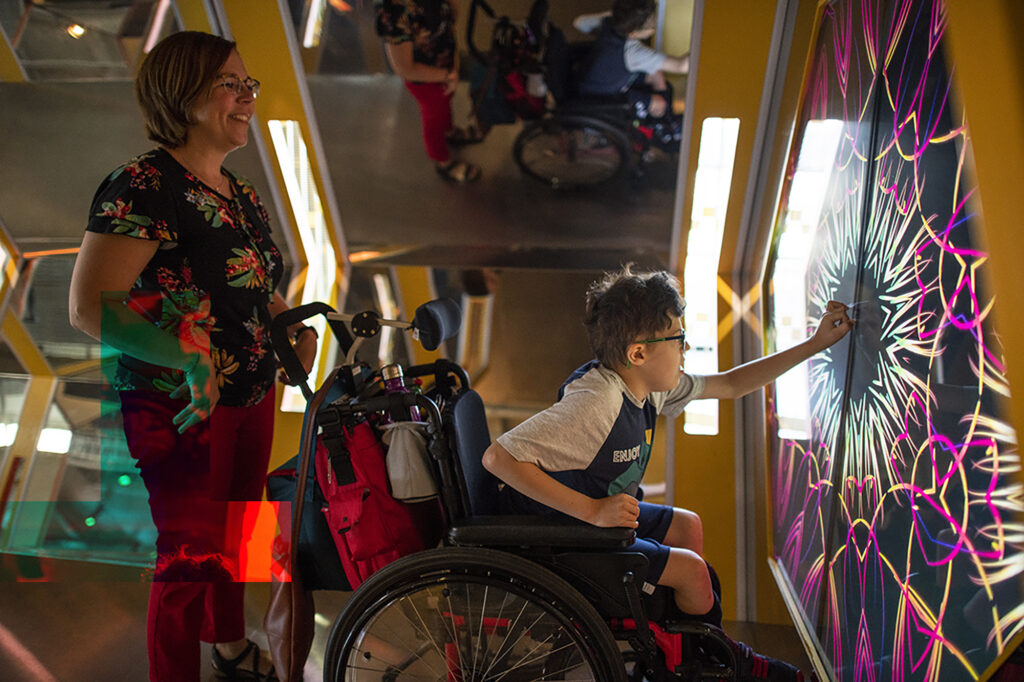 Welcome to the Montréal Science Centre
Located in the heart of the Old Port of Montreal, the Science Centre is an inclusive place where young and old can have fun and discover science and technology.
Exhibits
All the exhibit rooms are accessible for people with reduced mobility. An exterior elevator and two interior elevators are available for moving from one level to another.
Fabrik
Individually or in groups, young and old alike come up with technological solutions and build them from a jumble of materials available. A race car, a parachute, a floating structure… Anything is possible! Note that the dock and hangar challenges are easily accessible from both the work table and the test bench. The other four challenges require testing the prototypes that were created at height or directly on the ground, making them less suitable for people with limited mobility.
Human
The Human exhibit presents portraits of the multiple metamorphoses of the human being since its origin. You can also discover how the body changes at each stage of life. Interactive tactile, sound and visual tools are available to discover the secrets of biology and the human body at your own pace.
Explore
The Explore exhibit invites visitors to discover the science behind movement, air, light, water, geometry, matter and code. All the senses are called upon in these interactive experiences. Choose what you want to feel.
Mini Mondo
Mini Mondo invites young visitors to learn about protecting the environment. They can discover three environments: the city, the river and the forest. Each one offers a series of play-based and imaginative activities. Although recommended for children 0-7, Mini Mondo can appeal to a variety of children, including older ones.
TELUS IMAX® Theatre
This theatre plays movies that are approximately 45 minutes long. Spots for people in wheelchairs are available at the top of the theatre. In order to reserve one of these spots, remember to request it when you buy your tickets. Also, for the hearing impaired, hearing aids are available at the theatre reception desk.
---
Science Centre map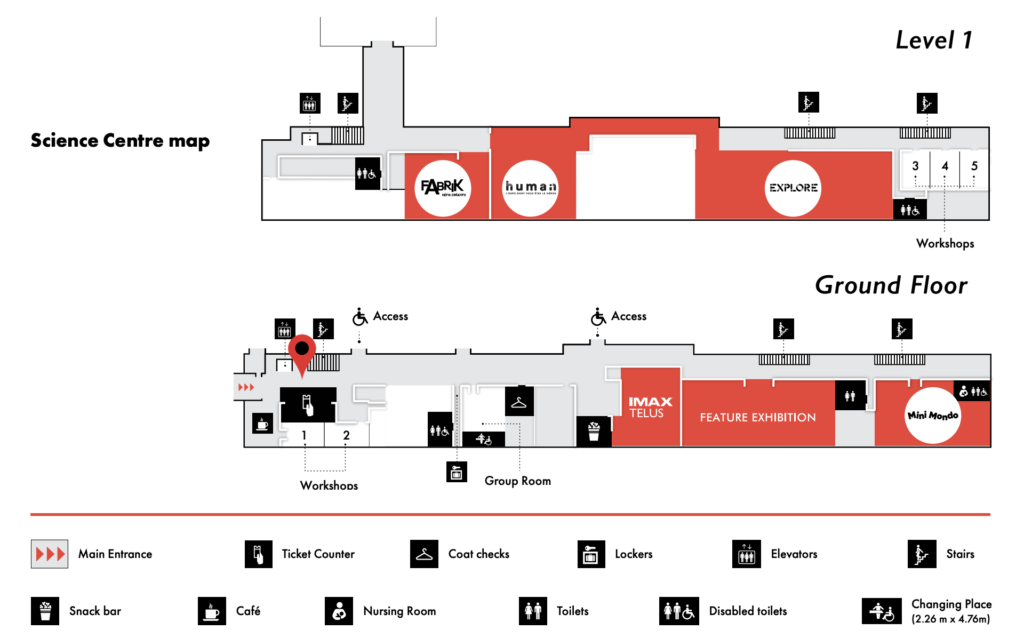 ---
Adapted services
If you would like to come during quieter periods, plan to visit during weekdays, mid-afternoon or on Sunday mornings. Quiet mornings will be offered in the fall and winter of 2021, find out more on the Science Centre website or from customer service.
If you want to relax in a quieter space, don't hesitate to stop in one of the quieter corners of the exhibit halls. Take your time, you are welcome here. Staff at the ticket desk will be happy to direct you to more secluded areas if you need.
The Science Centre has wheelchairs, noise-cancelling ear muffs and timers. Limited quantities of these can be loaned upon presentation of an identity card, which will be used as a deposit.
A guide for people with special needs has just been published It is available online to help you prepare for your visit. Paper copies are also available at the ticket office.
---
Accessible hygiene room
Several washrooms are available on both floors of the building. An accessible hygiene room for people with reduced mobility with a change table for adults is available on the ground floor.
---
For more details on the Science Centre's accessibility features, go to: https://www.keroul.qc.ca/en/establishment/region-de-quebec/attrait/9960-musee-national-des-beaux-arts-du-quebec-mnbaq-.html?rech=1&txtRech=mus%25C3%25A9e%2520des%2520beaux%2520arts